Okay, maybe not 80 desserts, that was obviously a reference to the famous novel and a wild exaggeration, but we have compiled a list of desserts from around the world that have us drooling. Without further ado, let's take a look at the best desserts you can find in different countries around the world. If you're a devoted foodie, like to travel, and just enjoy good food (who doesn't?) – keep this list for future reference.
No matter where you are in the world, we can all agree that dessert is the most important meal of the day. The next time you find yourself on the hunt for some local cuisine, don't rule out trying a local and beloved sweet treat.
Picarones, Peru. We would consider picarones a sister to our classic American doughnut, but with a twist. Instead of just flour and sugar, picarones are made of sweet potatoes and squash (macre), then mixed with flour and sugar to form a dough. Next, bakers form rings out of the dough and deep fry them. Picarones are served hot and fresh on top of sweet syrup.
Lemon Tart, France. Lemon tarts are simple, delicious, and best served in France. This dish consists of a tangy lemon custard in a buttery crispy crust. You can find lemon tarts in French bakeries and cafes year-round, and it's never the wrong time of year to eat one.
Syrniki, Russia. Syrniki, or otherwise known as cheese pancakes, are made from soft cheese that are turned into little cakes, then fried in hot oil or butter to brown each side. Sometimes these cheese pancakes consist of fruits such as apricots or pears, and are typically served with jam, sour cream, or melted butter.
Cardamom Buns, Sweden. If you fancy a cinnamon roll, you'll love cardamom buns which are just basically Sweden's version of what we have come to know as a cinnamon roll. Cardamom buns are simply pastries flavored with cardamom and they are served all year round as a treat to complement your morning, afternoon, or evening tea or coffee.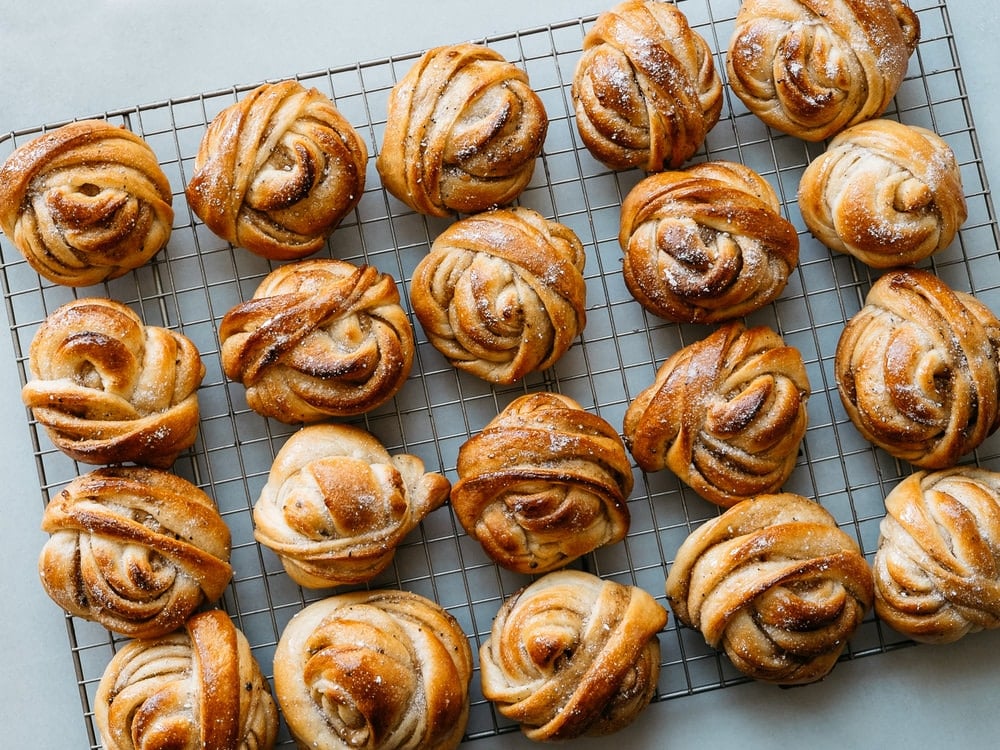 Tarta de Santiago, Spain. This tart recipe originated in North-Western Spain during the Medieval Pilgrimage, and is typically decorated with the cross of St. James. This dessert is infused with the taste of both almond and citrus, making this a light dessert that pairs nicely with afternoon coffee.
Cannoli, Italy. A true cannoli is a deep-fried pastry tube filled with a sweet mixture that consists mostly of ricotta cheese and loaded with chocolate chips. The cannoli mixture itself is pretty light and contains just a pinch of citrus zest.
Borma, Middle East. If you are all about rich treats, and we do mean rich, you'll love Borma. Borma is a thick, crunchy, and extremely sweet dough that is twisted around chopped nuts. While it doesn't sound like much, this dessert is highly sought after in the Middle East and is definitely worth a try the next time you can get your hands on some.
Banoffee Pie, England. Prepare to drool. Banoffee pie is a delightful combination of bananas and toffee. This pie starts out with a cookie or graham cracker crust, then filled with dulce de leche and bananas, and topped with homemade whipped cream. Other variations work in chocolate or coffee, but frankly, we don't think there is a wrong way to make banoffee pie.
Skyr, Iceland. Cool treat lovers will appreciate the Icelandic dessert of Skyr. Skyr has the consistency of Greek yogurt, with less punch, and is often served with various fruits. This dessert is both healthy and delicious. As a bonus, skyr has been around for thousands of years.
Sachertorte, Austria. Austria is famous for its sweets, but this one is a must-try. If you love chocolate, then we've got the dessert for you – sachertorte! Sachertorte is a classic Austrian chocolate cake layered with apricot preserves and traditionally served with unsweetened whipped cream. It's been said that this recipe dates as far back as 1832.