Regardless of where you travel to and what activities you enjoy while on vacation, we can all agree that food is the real MVP of any and all trips. While it can be tempting to opt for the familiar, the best way to immerse yourself into a new region, country, or culture is to try the local cuisine. We've compiled a list of eight regional famous foods across the country that you should try next time you visit one of these places (which hopefully, would be soon!).
New York Bagels
Okay, we are all aware that a bagel is bread in the shape of a ring; however, New York bagels are notoriously more delicious due to the softness of the water in New York and because bakers in New York allow their bagel dough to sit in the refrigerator for a couple of days before making the actual bagels. So whether you prefer an everything bagel with, well, everything on it, or just a cinnamon sugar bagel with a little smear of cream cheese, you absolutely must try the famous New York bagels if you find yourself in that region.
True Southern BBQ
You might think you've had BBQ, but until you've experienced BBQ in the south, you haven't had real BBQ. What makes southern BBQ so different you ask? The answer is in the sauce. Southern BBQ sauce is a spicy mixture of vinegar, salt and pepper, and cayenne. Picky eaters beware, if coleslaw isn't your thing, make sure to ask for your BBQ dish with no slaw, because in the south, it's on everything.
Minnesota Hot Dish
Each region has its own version of comfort food and in the North, it's all about the tater tot casserole. After a chilly day in the Great Lakes region, we can't think of a better way to warm up than with a hot plate of tater tot casserole to warm you from the inside out. Tater tot casserole is traditionally made with cream of mushroom soup, vegetables, and crispy tater tots. If you really want to go for ultimate comfort, try it with some melted cheese on top.
Wisconsin Cheese Curds
Okay, getting cheese in Wisconsin is probably a no-brainer, it is the Dairy State, after all, but go for the fried cheese and thank us later. Cheese curds are a delightful little snack of fresh Wisconsin cheese tossed in a batter of herbs and spices, and deep-fried to perfection.
Seattle Dogs
You've heard of Coney Island dogs, you've heard of Chicago dogs, but have you heard of the Seattle dog? The Seattle dog is a hot dog that is smeared with cream cheese and topped with sauteed onions. These dogs are popular amongst sports fans and late-night snackers alike.
Florida's Key Lime Pie
If you're a lover of key lime pies, Florida is the place to be where the key limes that are necessary for this delicacy grow in abundance. There has been a recent debate that Florida wasn't the actual birthplace of the key lime pie, but there has been no debate over what region does it better. It's Florida. Next time you visit the Sunshine State, get yourself a slice of local key lime pie and thank us later.
Po Boy Sandwich, NOLA
Simple yet delicious. The Po' Boy sandwiches originated in Louisiana and famous in New Orleans. Appropriately names, they are simply made of meat of your choosing (typically roast beef or fried seafood) on a french baguette, making the bread of the sandwich very light. The name comes from the Martin Brother's French Market Restaurant and Coffee Stand during the 1929 streetcar strike.
Philly Cheesesteak
It's no secret if you want good cheesesteak, you have to get it from Philly. Philly Cheesesteak is a hot sandwich made with thinly sliced ribeye steak bits, caramelized onions, and provolone cheese. While this sandwich sounds simple, try it from a food truck or cart in Philly and get ready for the food experience of a lifetime.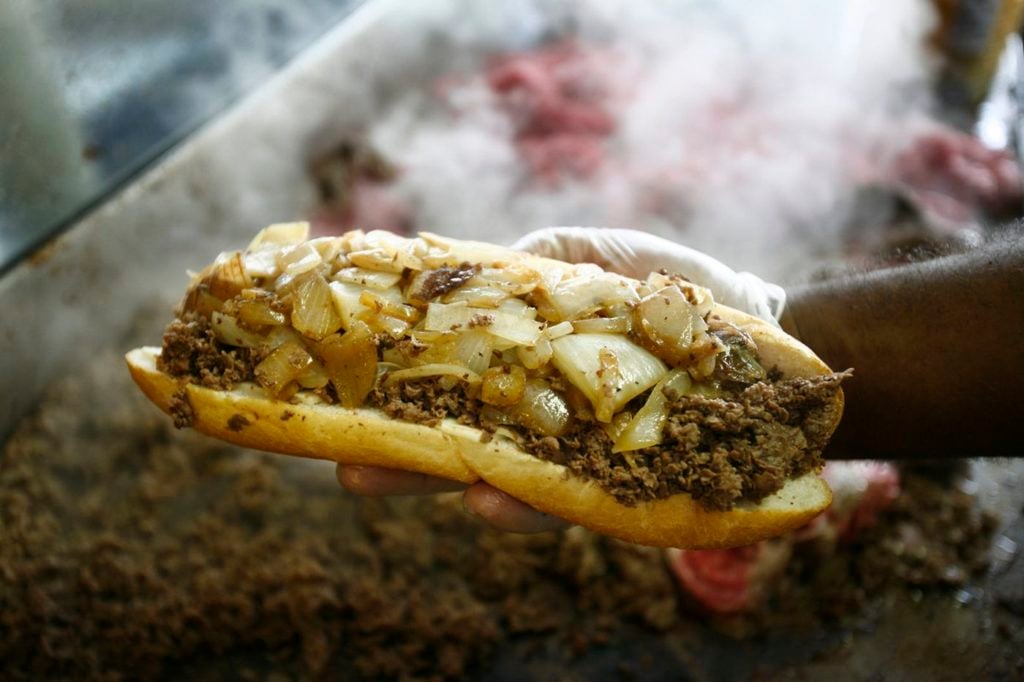 Our list could go on and on, and while traveling is all about trying new and interesting things, we think every once in a while trying a new (to you) classic is the best way to look like a local and fully immerse yourself into the local culture.