Apart from Dubai's luxurious travel accommodations, booming nightlife, and high-end shopping, there is a rich Middle Eastern culture that is evident in the local cuisine. Visitors to the emirate are treated to Arabic delicacies unlike what can be tasted outside of that region of the world.
Cuisine in Dubai is greatly shaped by Middle Eastern cultures, with some Asian influences as well. Many of Dubai's dishes incorporate meats, particularly lamb, and rice as main ingredients. Since it is a Muslim region, pork cannot be found on most menus. Dishes are flavored with a rich variety of spices, including saffron, turmeric, and cardamom. The selection of delicious dishes is broad, but here are a few foods you do not want to miss on a visit to the emirate.
Majboos
A meat and rice dish, majboos can be cooked with lamb, fish, or chicken. It is prepared by boiling the meat, spices, and vegetables, then using the resulting stock to cook the rice. The result is a savory, tender treat. A key ingredient that gives majboos its unique flavor is loomi, or dried lime.
Al Harees
Al Harees is a wheat and meat dish that with the consistency of a thick porridge. It is served warm, topped with butter, and makes a great comfort food. Al Harees is traditionally enjoyed in Middle Eastern families during celebrations such as weddings or during Ramadan and is widely available in restaurants around Dubai.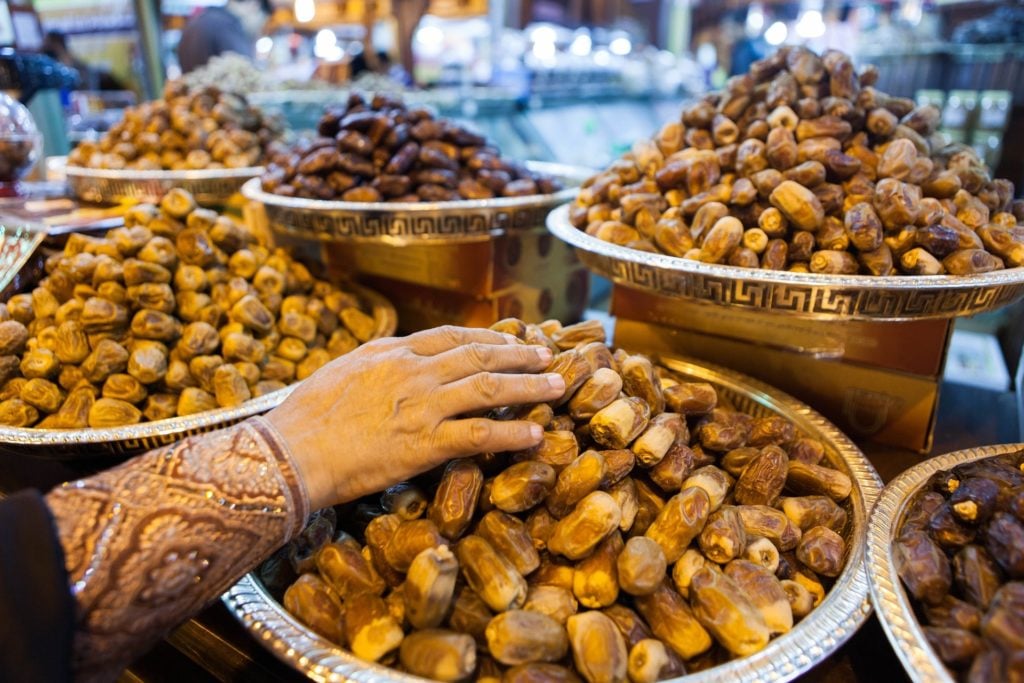 Margoog
Like many of the dishes in the area, Margoog's consistency is basically that of a stew. It consists of meat and a mixture of vegetables in a tomato-based paste. A combination of turmeric, red pepper, and a handful of other spices give this dish a little bit of a kick.
Khuzi
Khuzi, also spelled quzi or qoozi, is the national dish of the United Arab Emirates. It consists of roasted lamb served over rice and topped with nuts, raisins, and vegetables. It makes for a simple, hearty, and delicious meal.
Hummus
It might sound like a simple, obvious, and perhaps even boring suggestion, but you cannot leave Dubai without tasting at least one hummus dish. There are many creative variations of the tasty chickpea spread, and even the most basic versions have been perfected in Dubai restaurants.
Last but Not Least: Camel
It is not in every country that you can ride a camel in the desert. Nor can you walk into any restaurant and order camel for dinner. Dubai is one of the rare places you can do both. Camel meat is a popular fare in the United Arab Emirates, and can be prepared many ways. With a taste compared to beef, it is most popularly served as a burger. Camel meat is surprisingly healthy, as far as meat goes. It is less fatty than other meats but has far more protein than beef, lamb, or chicken. But if meat is not your cup of tea, try the camel's milk instead. Lower in fat and richer in calcium and iron than cow's milk, camel milk is a popular beverage in Dubai.